The phones lines are currently down in the district.

Connally ISD administration building is currently without electricity and phone service. All campuses continue to have electric and phone service service. If you need assistance, please contact the campuses.

The application for the Pandemic Electronic Benefit Transfer (P-EBT) is now open (June 2-August 13). Because Connally ISD offers free meals to all students, our families are eligible for the P-EBT program. The P-EBT provides food benefits to families with students enrolled in school (up to 21 years of age) who temporarily lost access to free or reduced-price school meals for the 2020–2021 school year due to the COVID-19 pandemic. TO APPLY: Visit yourtexasbenefits.com/Learn/PEBT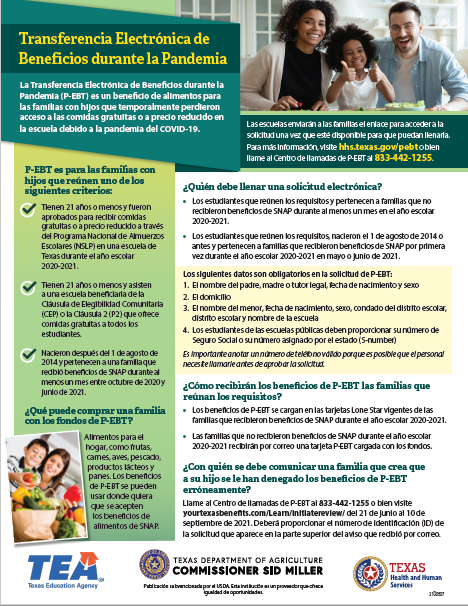 Tuesday, May 25 is the last day of school and an early release day. Please check with your child's campus for early release times. Have a wonderful summer break!

Connally ISD will be closed on Good Friday, April 2, 2021. Classes will resume on Monday, April 5. Please have a safe and Happy Easter!

There will be a virtual School Health Advisory Council Meeting Tuesday, March 30, 2021, at 4pm. We will be discussing CISD's Wellness Plan. If you would like to attend please send an email to Pam White, RN at
pwhite@connally.org
with your email address for the virtual meeting invite.

Connally ISD will be closed for SPRING BREAK March 9-13. Instruction will resume on Monday, March 15. Please have a safe and happy week!

Tonight's playoff game between the Connally Cadets and the Silsbee Tigers will be broadcast LIVE from Madisonville, Texas! You can catch the broadcast at 6:45 pm on 1660 AM and 92.3 FM ESPN Central Texas. If you want to attend tonight's game in Madisonville, click the link below to purchase tickets!
https://www.madisonvillecisd.org/apps/pages/index.jsp
... Use Passcode: hoops21

Due to continued inclement weather, road conditions & lack of consistent power in our area, CISD will remain closed for the remainder of the week. No new assignments will be posted. If you have assignments which need to be completed, please do so once you are able.

Connally ISD will be closed Thursday, 2/18 and Friday, 2/19, due to utility issues. If you have power, please make sure your child logs in to complete their assignments. Thank you!

Due to the extreme winter weather conditions in our area, the Connally ISD campuses will be closed through Wednesday, February 17th. Students and staff are expected to login to their classes for virtual instruction on Tuesday and Wednesday.

Connally ISD will be closed Monday, February 15. Remote instruction will take place on Tuesday, February 16 and Wednesday, February 17. Please stay safe and warm!
Connally ISD will have a virtual learning day today. Students & staff will not be reporting to school in person, but they are expected to log into their classes for virtual school work. In addition, students do not have school on Monday due to a scheduled holiday.
Connally ISD will be delaying the school start time by 2 hours again tomorrow morning. We will continue to assess the weather and road conditions to see if adjustments need to be made to this plan. Again, we thank you for your patience.
Connally ISD is making preparations to begin the bus routes at 2:15. We ask that you please be patient as the bus drivers will be taking their time to exercise extreme caution in order to deliver all students safely.

UPDATE- Connally ISD encourages parents to pick their student(s) up from school if they feel safe doing so. At this time, the current weather/road conditions will delay the bus pick up time from each campus. We will continue to monitor the weather and road conditions and will notify you when the buses begin picking students up from the campuses.

Due to worsening weather and road conditions in our area, we will be releasing all students early. Buses will begin picking students up at the Primary campus at 12:30. They will then pick up students at the other campuses. Parents are welcome to pick their students up at any time prior to the 12:30 release time if they are able to do so.

Due to the potential for hazardous road conditions in the morning, Connally ISD has delayed the school start time by 2 hours. Buses will be running 2 hours late as well.

Connally ISD will be closed Monday, January 11th due to weather conditions and hazardous roadways. Please stay safe and warm while you enjoy the snow!