We will have curbside pickup at 2 locations, the Elementary school and the Jr High School. Elementary pick up location is in the front of the building at the 1st outside door of the cafeteria.(same as summer feeding pickup). Jr High pick up location is at the back of the Jr High building where the buses drop off. Breakfast pickup times are 7:30 - 8:30. Lunch pickup times are 11:00 - 12:00. Tomorrow we will be handing out ID cards to parents/students to bring when picking up meals to be compliant with regulations.

First day of school, Thursday, August 13!

From Coach Anderson: Unfortunately due to the McLennan County Health District's decision to suspend in-person workouts and football, we will no longer be able to conduct strength & conditioning workouts or any other workouts until September 7th. More information will be released later this week! @CCadetAthletics

Update 7/21/2020: Connally ISD will not be accepting new transfer students this year unless they are the child of a staff member. Only returning transfer students will be accepted.

Dear CISD Families, The administrators and staff of Connally ISD have been working to develop a seamless return to school plan for the 2020-2021 school term. An initial draft of the plan was shared with all of you earlier today. As we navigate this process, we are continually receiving updates from the Texas Education Agency. Each update we receive has the potential to significantly change our return to school plans. However, we are continuing to plan to begin instruction on August 13th. We ask for your continued patience as we modify our plans accordingly in an effort to keep our students and staff safe and healthy. Thank you for your continued support, Wesley Holt, Superintendent

2020-2021 REGISTRATION: July 20-24, 2020 - RETURNING STUDENT ONLINE REGISTRATION ONLY (Parents will log in to Skyward Family Access to register their student(s) and upload the required documents. If they have issues loading the required documents, they will need to contact the campus to schedule a time to bring in the necessary documents. No registrations will be approved unless the required documents are received.) The registration for this week will be done online and not on any campus. If a parent needs to use a school computer, they will have to wait until the following week to register. If a parent can't remember their Family Access login/password, they can click the forgot password link to reset their password. The returning student registration will be open at 12:01 AM on Monday, July 20th. A returning student is a student who was active on the last day of the 2019-2020 school year. A new student is a student who is new to the district or was not enrolled on the last day of the 2020 school year. REQUIRED DOCUMENTS FOR RETURNING STUDENTS: Proof of residency (last 30 days) (Water, Electricity, Gas bill, lease agreement in parent/guardian's name), Parent/Guardian ID, Immunization Record if it has been updated. REQUIRED DOCUMENTS FOR NEW STUDENTS: Birth Certificate Social Security card,, Proof of residence (last 30 days) (Water, Electricity, Gas bill, lease agreement in parent/guardian's name), Updated Immunization record, Parent/Guardian ID, Proof of income (current 4 weeks) or current SNAP Food Benefits program letter with eligibility group number for PK eligibility. NEW AND RETURNING STUDENT REGISTRATION: July 27, 2020 - PK Roundup at the Connally Early Childhood Center from 8:00AM-6:00PM. Grades K-12: Tuesday, July 28th - 8:00AM-5:30PM, Wednesday, July 29th - 8:00AM-5:30PM, Thursday, July 30th - 8:00AM-1:00PM and 2:30PM-7:00PM, Friday, July 31st - 8:00AM-11:30AM. -Wait times may vary as there will be limited access to campuses. -Masks must be worn. -One person allowed on the campus to register the student(s) unless you need assistance, then one other person may accompany you. -No children allowed at registration.

Connally ISD is now accepting transfers. Our transfer window will be open July 13-July 24. For details, please click Menu, For Parents, Transfer Student Application 2020-2021.

Good evening Cadet Families! Connally ISD has adopted a calendar with a start date of August 13th. However, we are well aware that the school year may not look like previous years. We would like to hear your voice as we make plans to bring our students back to school. Please take a moment to visit the Connally ISD webpage at
www.connally.org
to complete the back to school survey. The survey link will appear in the initial pop up window on the website. If you previously attempted to complete the survey and received an error message, please try again as the link has been repaired. All responses are anonymous and families are not required to follow their initial response. We are well aware that changes in the trend of the virus in our area may influence your final decision. Thank you in advance for taking a few minutes to respond to the survey.

Connally ISD and our FREE summer feeding site at Connally Elementary School will be closed this Friday, July 3. Please stop by Connally Elementary on Thursday, July 2, to receive meals for July 2-July 5. We will resume our regular schedules on Monday, July 6, 2020. Breakfast: 8 am - 9 am, Lunch: 11 am - 12:30 pm. Connally ISD wishes you all a safe and happy Independence Day!

The online application for the Pandemic Electronic Benefit Transfer (P-EBT) is now open for eligible families. Please go to Menu, For Parents, P-EBT to view our district letter, the How to Apply form, and the flyer to check eligibility. To apply please visit
https://yourtexasbenefits.com/Learn/PEBT
or contact the call center for assistance at 833-613-6220.

Dear Connally Families, We will be hosting a reverse parade to close the door on this school year! On Thursday, May 21 from 6-6:30 PM, teachers and staff from various campuses will be lining the streets along Connally Circle (near Primary and Jr High) to say good-bye for the summer. Please bring your family to drive through and wave! We miss you all very much.

From Pam White, District RN: The Connally ISD School Health Advisory Council has scheduled an online meeting for Monday, May 11 from 1-2 pm. We will be discussing the Wellness Plan Assessment. All interested persons are welcome to attend. Contact Pam White before 11am Monday, at
pwhite@connally.org
, to be added to the online meeting.

HS Athletic Locker Clean out will take place on Thursday 4-30-20 & Friday 5-1-20.  Girl athletes will report to the single door of the girls facility located on the front side of the HS & Boys will report to door 1 of the multi purpose facility. Athletes will not be allowed into the main HS building at any time during the locker clean out times.  IF YOU HAVE ANY CONNALLY ISD ISSUED GEAR/EQUIPMENT PLEASE MAKE PLANS TO RETURN IT DURING THIS LOCKER CLEAN OUT TIME!!!! 9:00 AM - 10:00 AM: Seniors (12th Graders/Class of 2020 ONLY) 11:00 AM - 12:00 PM: Juniors (11th Graders/Class of 2021 ONLY) 1:00 PM - 2:00 PM: Sophomores (10th Graders/Class of 2022 ONLY) 3:00 PM - 4:00 PM: Freshman (9th Graders/Class of 2023 ONLY)

For students who have medications at school, we will be conducting a District-Wide Medication Pickup on Monday, April 27, from 7:30 am - 1:00 pm, at each campus. Please remain in your vehicle for drive-through service. CECC: Front Door, CPS: Front Door, CES: Front Door, CJH: Parent Pick Up Area (Last covered walkway door #3), CHS: Front Door

Per the Governor's Executive Order, Connally ISD will be closed for the remainder of the 2019-2020 school year. However; we will continue to provide instruction for at-home learning and will continue our meal service for the remainder of the school year.  We realize there will be many questions for students, teachers, and parents concerning graduation, returning materials, and collecting items from the school buildings. As mentioned during the Governor's press conference, Texas Education Agency Commissioner Morath will be providing guidance for schools early next week concerning these questions and many more logistics related to closing for the remainder of the year. With this guidance, district administrators and principals will be creating plans to complete and close the 2019-2020 school year. As these plans are complete, we will be sending out updates that should answer many of your questions. Your patience is appreciated. Thank you for all your support as we navigate this process. This is a unique situation that is new to all of us. You can expect to receive more information as we continue through the remainder of the school year.  I hope you have a great weekend. Stay safe and healthy! Wesley Holt, Superintendent, Connally ISD

Governor Abbott amended his Executive Order calling for all Texas schools to remain closed through the end of the school year. Connally ISD facilities will be closed and all events/activities canceled through the end of May.  We will continue our remote learning/instruction and continue our meal service. Wesley Holt Superintendent Connally ISD

Greetings Cadet families! We are in week four of our COVID-19 closure and remote learning. This has been a trying time for parents, students and teachers. We are still working through some issues, but we are all learning as we go. I want to thank all of you for your patience and dedication to your child's education during this time. I appreciate the extra time and effort you are putting into being the motivator, coach, teacher, and administrator while your students are learning at home. I also appreciate the feedback and communication to assist us in making this a smoother process. Due to the abrupt transition to remote learning, Connally High School is making adjustments to the grading guidelines for the 5th six weeks and for the remainder of the school closure. All grades will carry equal weight in the gradebook. Ensuring academic integrity on heavily weighted assignments such as tests is virtually impossible. This is an additional burden we do not want to place on our parents. We already appreciate all the additional tasks you are taking on during remote learning. The fifth six weeks grading period ends on Thursday, April 9th with report cards being mailed on Thursday, April 16th. Students who have not returned all of their work during the school closure will receive an incomplete grade in courses where assignments are missing. They will be given until May 1, 2020 to clear the incomplete grade. After May 1st all missing assignments will be given a zero and the final grade will be recorded. Please keep in mind, grades for students completing paper based assignments take about a week to week and a half to process after they are turned in at a collection site. Once the assignments are collected, we disinfect them and allow them to sit untouched for 48-72 hours before scanning them to the teachers. The sooner students submit their assignments online or to a collection site, the more accurate their grade report will be in Skyward. I encourage you and your student to be in contact with their teachers to clear up missing assignments or get additional assistance and clarification. Teachers are relying heavily on email and Google Classroom to correspond with students. If you are unsure of how to contact a specific teacher, please let me know and I will have them contact you by your preferred method of phone or email. I would also like to remind all families of our free breakfast and lunch services. Any child age 1 to 18 years old can get a free breakfast from 8:00 to 9:00 a.m. and free lunch from 11:00 a.m. to 12:30 p.m., Monday - Friday. On Friday, each child will be provided with additional breakfast and lunch meals for Saturday and Sunday. This week, the additional meals will be distributed on Thursday. ALL food distribution and assignment collection locations will be closed on Friday, April 10th and Monday, April 13th due to the holiday weekend. The new assignment packets will be available on Tuesday, April 14th. Always. Please contact us if you have any questions or concerns we can assist you with during the closure. Sincerely, Jill Talamantez Principal
jtalamantez@connally.org

You hear it all the time during flu season: wash your hands to prevent the spread of flu. You may have heard advice encouraging you to do the same to stop the spread of COVID-19. But do you know why this simple practice works so effectively? Washing your hands with soap and water breaks up the molecules of the virus and washes them away, preventing the virus from infecting you or others. To be able to effectively and reliably break up the virus cells, you must wash your hands thoroughly and vigorously for at least 20 seconds. Doing this can be incredibly effective! In fact, a study showed that when a group of elementary-aged school children participated in supervised handwashing 2-4 times per day, the spread of a similar virus was reduced by 47% While it is important to wash your hands, it is also important that we all regularly disinfect surfaces. COVID-19 has been shown to live for up to three days on various surfaces. If you must leave your home for essential services, be sure to wash your hands as soon as you return and disinfect any surfaces you may have touched. If someone in your home is ill, it's also important to regularly disinfect. Applying soap and water plus commonly used disinfectants to frequently touched surfaces will break up the virus and carry it away, in the same way soap kills and carries away the virus on your hands. We hope you and your family are able to regularly take these simple steps, which will help prevent the spread of COVID-19 and help your family to stay well. For more information on preventing the spread of COVID-19, visit
www.tea.texas.gov/staywell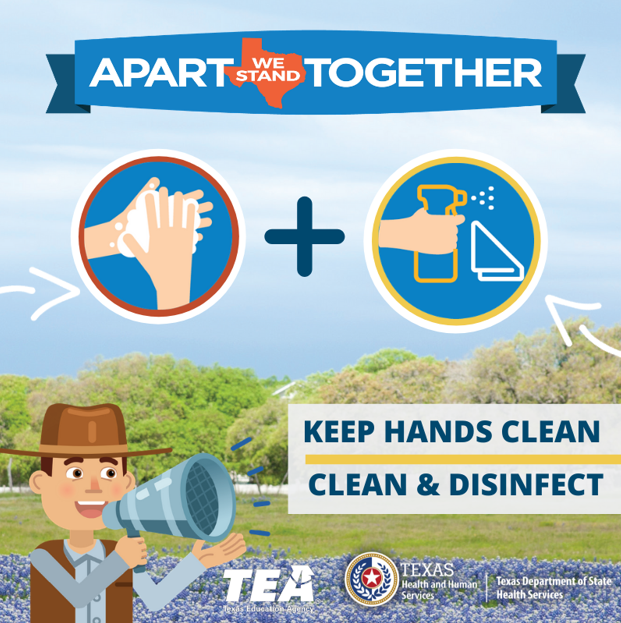 ANNOUNCING CLOSURE BEING EXTENDED THROUGH FRIDAY, MAY 1ST, 2020 Given the rapidly evolving situation with COVID-19, Connally ISD will extend the suspension of normal district operations at least through Friday, May 1st  in an effort to support our nation's need to slow the spread of the novel coronavirus or COVID-19.  Our health officials report that cases are continuing to spread in the state, and an increase in confirmed cases in our county seems likely.  Suspending operations for this length of time will allow us to determine, in coordination with local health officials, state government, and the local government whether the virus is continuing to have community spread or whether it has been contained.  We are coordinating with other school districts in the county and will use the week of April 27th to make any decisions on whether there is a need to extend the suspension further.  To provide a sense of possible impact in order to help you prepare please continue to check our website at 
www.connally.org
 or our social media postings. The Centers for Disease Control and Prevention has outlined the need for all communities to implement a social distancing protocol.  We want to reiterate a request to our broader community to take the following reasonable precautions to prevent the spread of the illness: ·         Don't shake hands ·         Wash your hands regularly ·         Limit movement within the community, especially avoiding crowded placed and maintaining 6 ft of distance between people   ·         If you are moving around in the community, don't congregate in large groups ·         For those who have traveled to areas with known COVID-19 cases – both inside and outside of the country – we ask that you self-quarantine and monitor for symptoms. Students who have traveled should plan to stay home for two weeks after arriving home. Please contact your campus to let them know, and this will be considered an excused absence. ·         If you suspect you have symptoms of COVID-19, call your health care provider for medical advice. ·         Keep your child at home, if he/she feels ill, even if you think it is just a cold. ·         Do not leave the house if you are ill, except to access medical care This is a quickly changing situation, and we will continue to monitor information, will assess conditions throughout the week, and will provide updates via our website and social media. Thank you for your support and cooperation as we ensure that all members of the community in Connally ISD stay safe and healthy.  

Does your child (any grade) need a paper packet to complete their school work? Please visit any Connally ISD curbside feeding site to pick up work for your student between 8am-9am or 11am-12:30pm. Starting Monday, CPS will have packets at the feeding sites as well. CPS will also leave packets out on a table in front of the CISD Administration Building, Mondays only, from 9am-8pm. Curbside Feeding Sites (Monday-Friday): -Connally Elementary School- 300 Cadet Way, Waco, TX 76705, -Lacy Lakeview Civic Center- 505 E. Craven, Waco, TX 76705, -Brazos Village Apartments- 2525 Lakeshore Drive, Waco, TX 76705, -Chalk Bluff Baptist Church- 5993 Gholson Rd, Waco, TX 76705, -Elm Mott Center- W. Elm Mott Drive