Our Connally ISD app keeps getting better and better! Parents/guardians who have already created a Rooms account can now access new app features like chat and class streams via web and in the app. Download for Android
http://bit.ly/2Q3P4kM
Download for iPhone
https://apple.co/2SoKoLt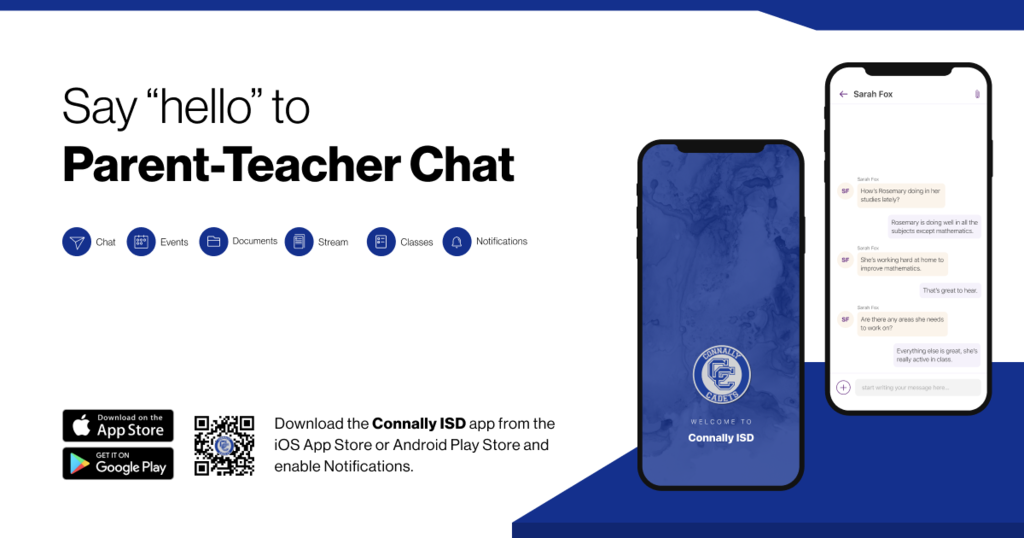 Our Connally ISD app keeps getting better and better! Parents/guardians who have already created a Rooms account can now access new app features like chat and class streams via web and in the app. Download for Android
http://bit.ly/2Q3P4kM
Download for iPhone
https://apple.co/2SoKoLt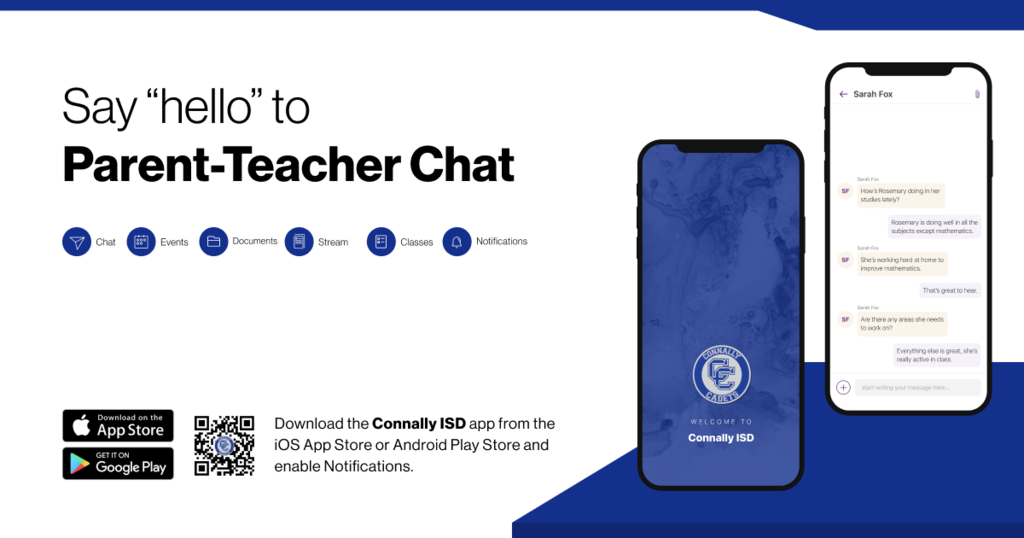 Our Connally ISD app keeps getting better and better! Parents/guardians who have already created a Rooms account can now access new app features like chat and class streams via web and in the app. Download for Android
http://bit.ly/2Q3P4kM
Download for iPhone
https://apple.co/2SoKoLt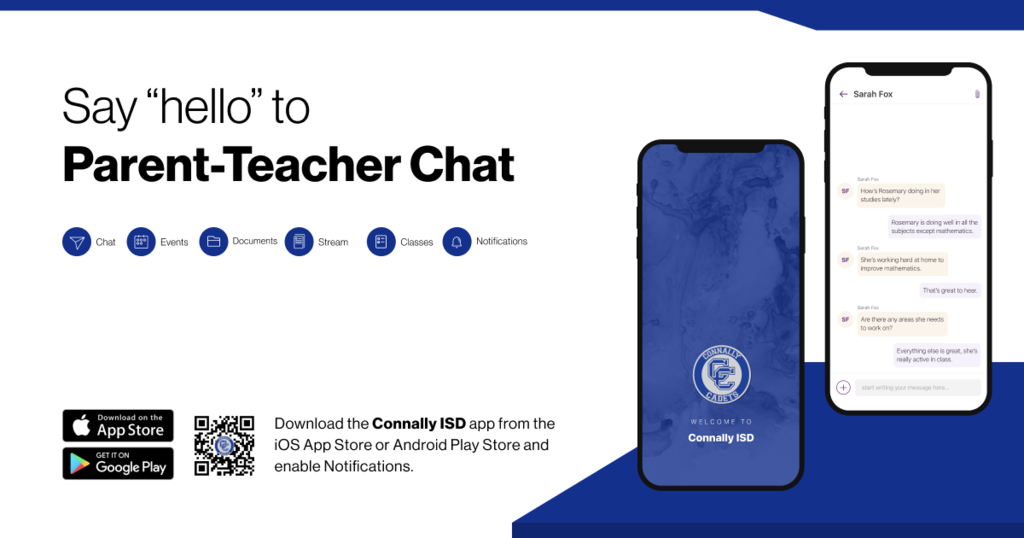 Our Connally ISD app keeps getting better and better! Parents/guardians who have already created a Rooms account can now access new app features like chat and class streams via web and in the app. Download for Android
http://bit.ly/2Q3P4kM
Download for iPhone
https://apple.co/2SoKoLt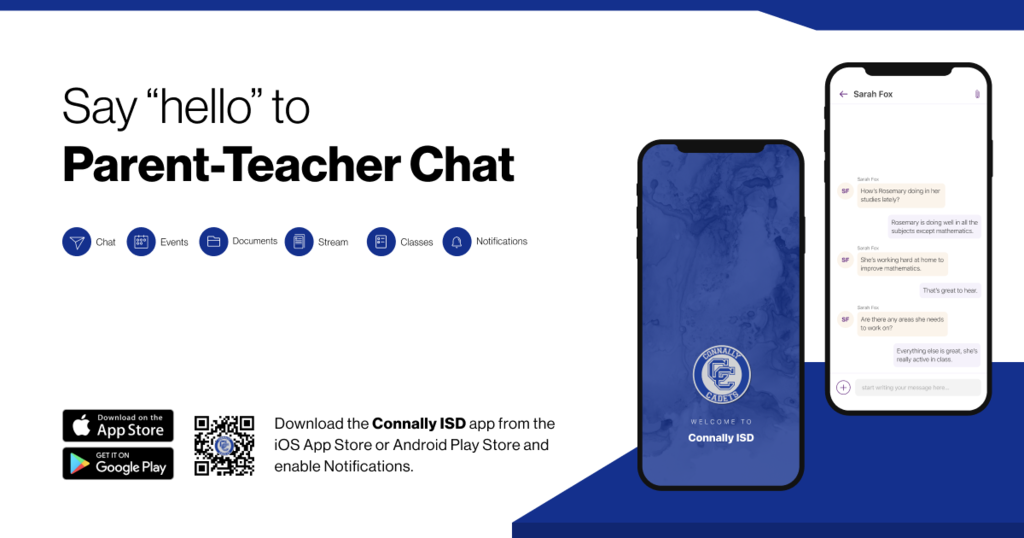 Say "hello" to two-way messaging and classroom announcements in the Connally ISD app! With the addition of Rooms, our district app keeps getting better. Parents/ guardians check your email with instructions to sign up and access new features.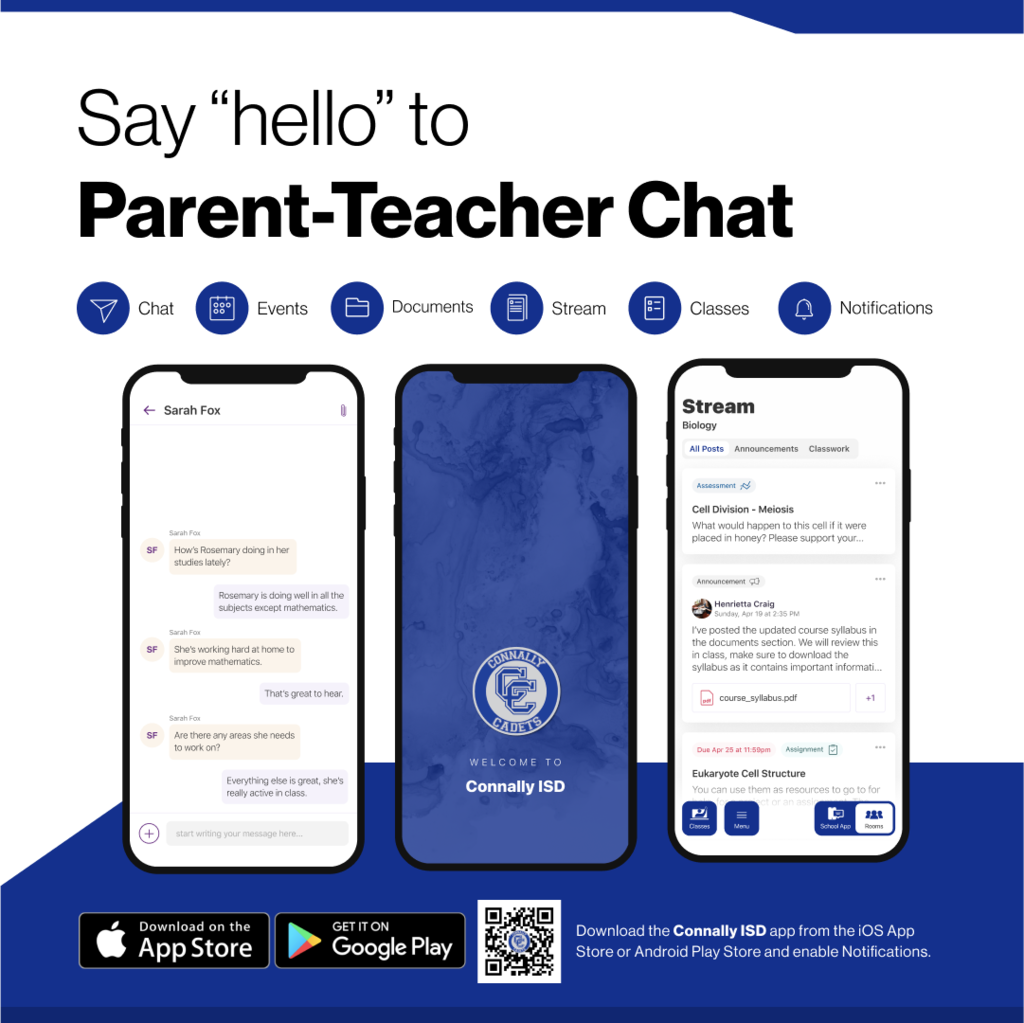 It's almost time for school! We hope to see everyone at Meet the Teacher night on August 7 from 5:00 to 7:00. Students will have the opportunity to pick up their schedules at that time.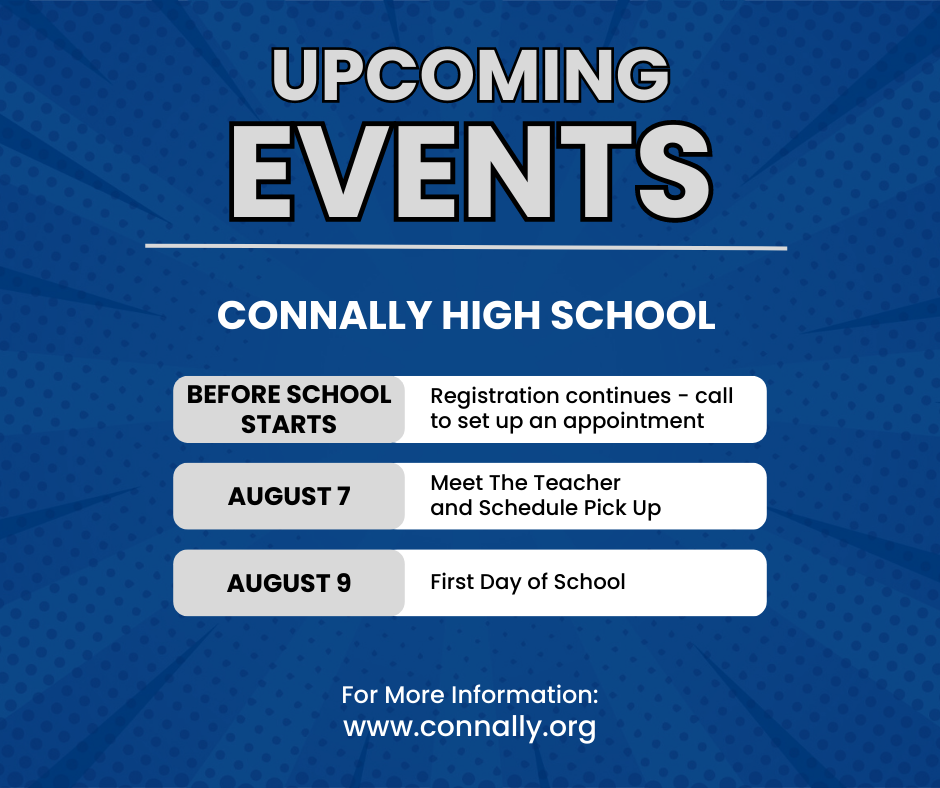 We cannot wait to welcome back our students! Meet The Teacher Night is August 7, 2023. Individual campus times are: Early Childhood Center - 4:30 - 6:30, Primary - 4:00 - 6:00, Elementary - 5:00 - 7:00, Junior High - 4:30 - 6:30, High School - 5:00 - 7:00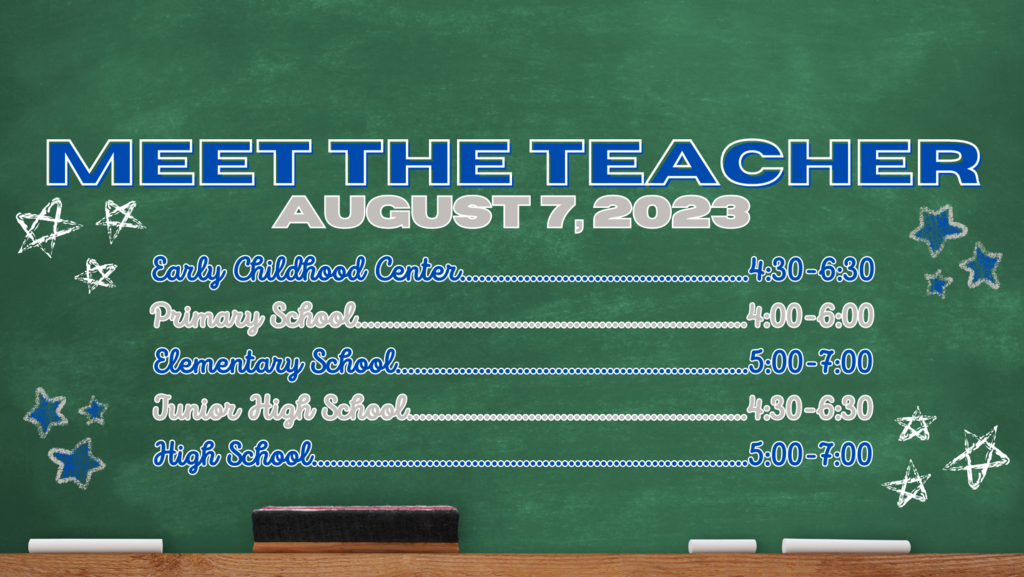 10.28.22 CHS Early Release Schedule: 1st 8:00 AM-8:30 AM 2nd 8:35 AM-9:05 AM 3rd 9:10 AM-9:40 AM 4th 9:45 AM-10:15 AM 5th 10:20 AM-10:50 AM 6th 10:55 AM-11:25 AM 7th 11:30 AM-12:00 PM 8th 12:05 PM-12:35 PM Sack lunches will be available upon release.

FAFSA Parent Night @ CHS 10/27 5pm-7pm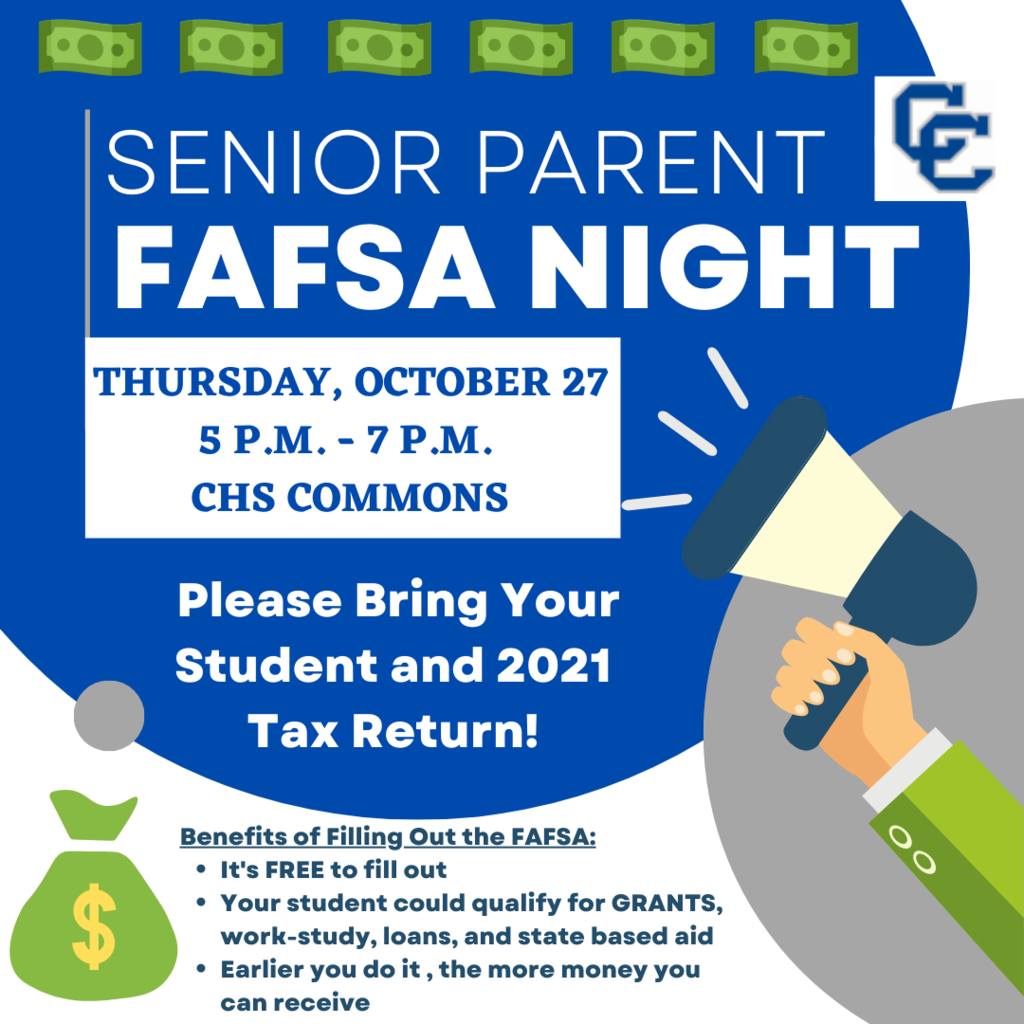 LIVESTREAM – Bullying Prevention Date: Thursday, October 13, 2022 Time: 6:00 - 7:00 PM meet.google.com/crw-brbw-cvy

CHS Meet the Teacher Night @ CHS September 7, 2022 5:30pm-7:30pm, Hot dogs and light refreshments will be served while supplies last.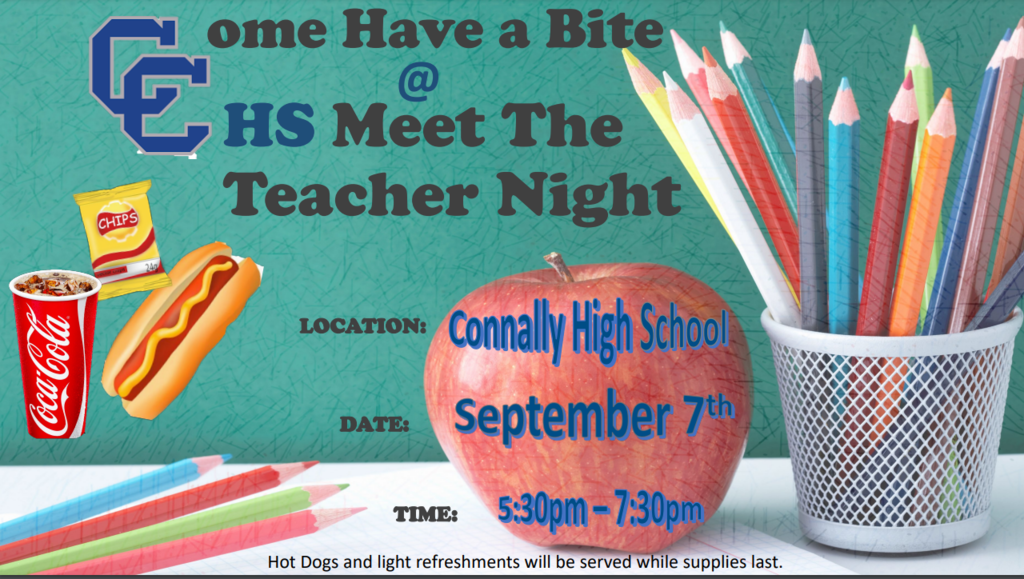 Cadet Nation, As a reminder football tickets for all home games including tomorrow nights contest vs Mexia are sold online ONLY at
https://www.ticketspicket.com/
Thank you for your support. GO CADETS

CHS will be closed tomorrow 8/4/2022 from the hours of 8am -1:30 pm for District wide professional development. Sorry for any inconvenience this may cause, and thank you for your continued support. GO CADETS


Attention ALL Summer School Students: EOC testing schedule for the remainder of the week is June 22- Algebra, June 23- English 2, June 24- US History/ Biology. All testing will begin at 8am at CHS. If you arrive after 9am, you will not be permitted to test. The next testing opportunity will be in December 2022.

Senior parents, If you need help with your student's FAFSA application, join us Wednesday, October 5th between 5-7pm. Bring your checklist items. Enter through the front of the high school and we will be in the library. If you can't make it to FAFSA parent night but need help, reach out to Ms. Rudd at
srudd@connally.org
. The completion of the FAFSA application is a state-mandated graduation requirement*. *Some exceptions apply.

Connally High School Bell Schedule CHS Remote Conferencing Instructional Schedule Instructional Prep/tutorial 9:30-10:00 Period 1 10:00-10:30 Period 2 10:30-11:00 Period 3 11:00-11:30 Period 4 11:30-12:00 Period 5 12:00-12:30 Period 6 12:30-1:00 Period 7 1:00-1:30 Period 8 1:30-2:00 Students will receive a link for google classroom in their school email from their teachers. MUST Do's for STUDENTS: Must login with camera on and be present for the duration of the period in order to be counted present. Must follow their normal schedule.
Cadets score on their second possession. Cadets 14 - Cougars 0
Cadets take the opening kickoff back for a touchdown. Connally 7 -Jarrell 0
Cadets fall in a close one 15-20