Field Days are happening this week! Kindergarten's Field Day is 5/16 and Pre-K is 5/17. See image for more information!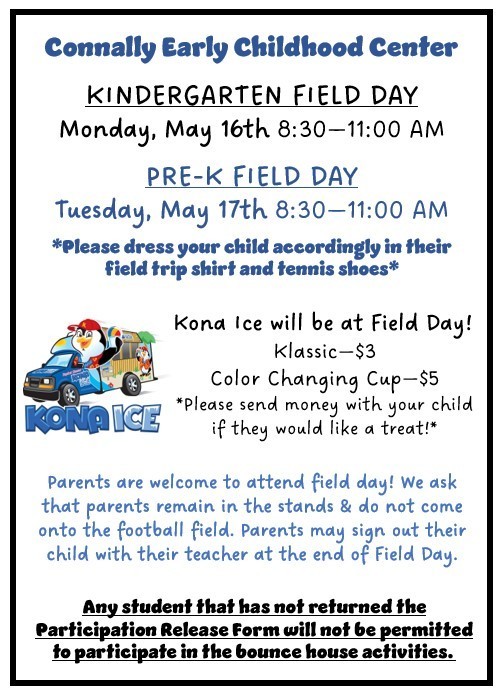 All candle order forms are due on April 26th.
Are you ready for our annual egg hunt?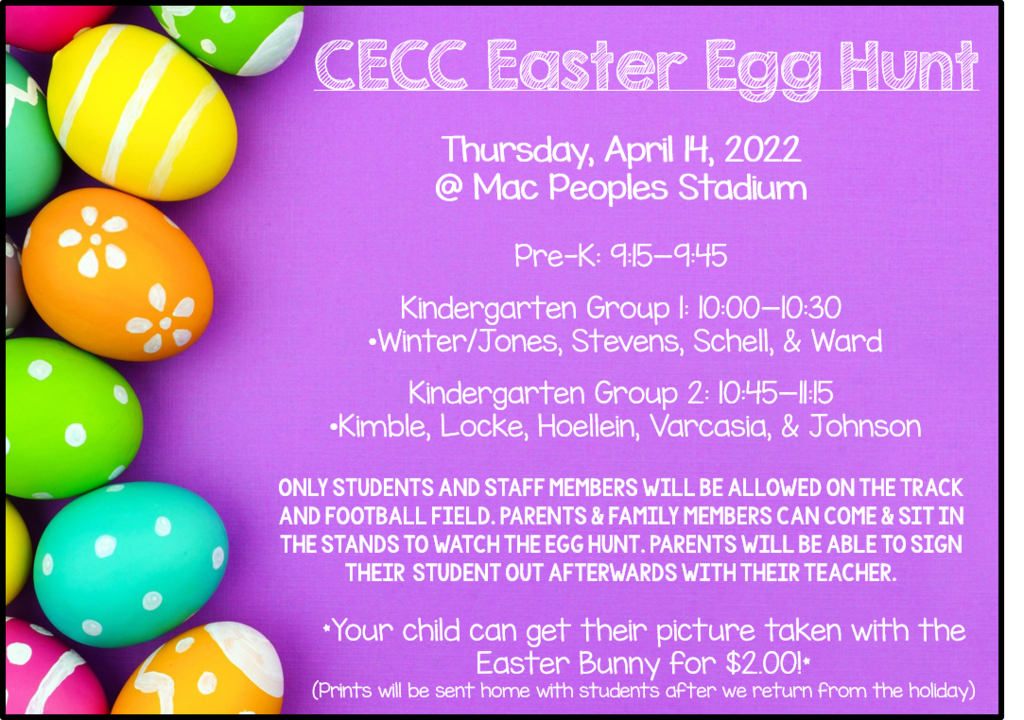 ESL Summer School Opportunity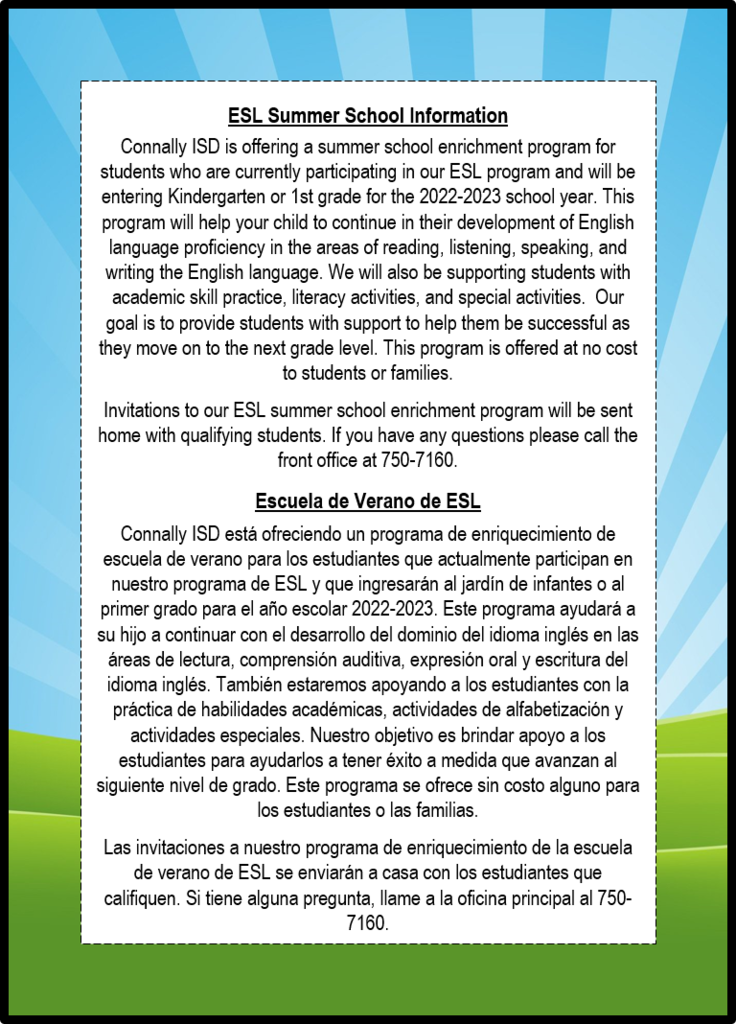 Kindergarten Parents: Yesterday, we sent home a Dyslexia Screener Parent Input Form. This was sent home to every Kindergarten student because the state of Texas requires Kindergarten students to be screened for Dyslexia. This screener gives us information to determine if further Dyslexia testing may be needed. Please fill this screener out to the best of your ability and return it to your child's teacher by April 29th. Thank you!
Don't forget about our Spring Pre-K Program and Family Literacy Night happening tomorrow, March 24th!
Family Picnic visitors will enter the building at the awning located at Parent Drop Off by the gym. The entrance to the cafeteria is down the sidewalk and is the last door to the right. Today is PRE-K lunch. Don't forget a blanket!
Tomorrow is Picture Day! Order online at mylifetouch.com Individual Picture ID: EVTFHNN2T Group Picture ID: EVTPGDWCR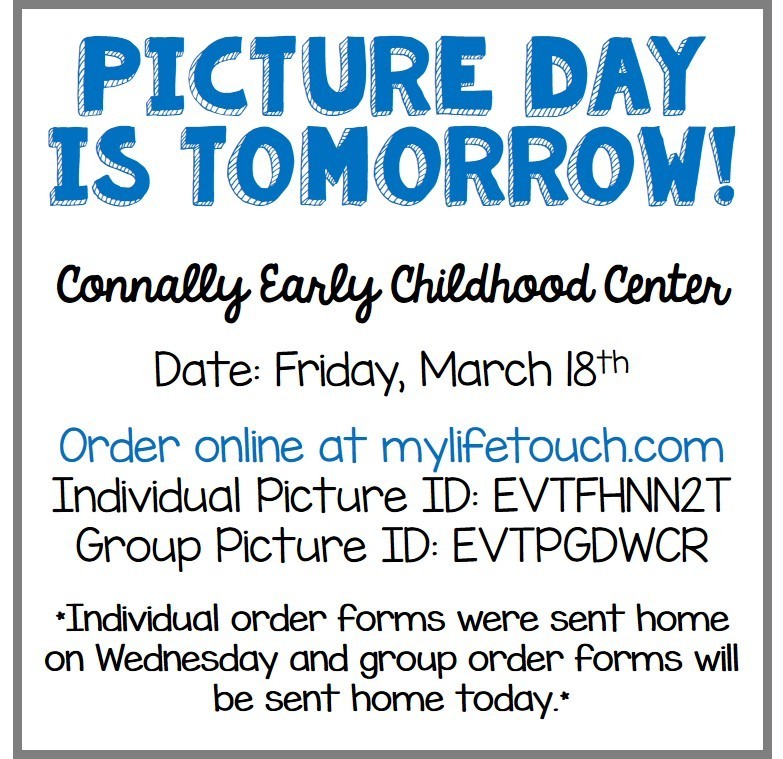 Parents, Be on the lookout for a purple flyer in your child's folder with information about our Family Picnics that will be happening next week! At the bottom of this flyer, you will need to fill out your child's name, their teacher's name, and the name(s) of the adult(s) that will be joining them for lunch on their designated day. You will also need to indicate whether you will be bringing your own lunch or if you will be purchasing an entree from the school cafeteria. Please return this form no later than this Friday, March 18th. Pre-K Family Picnic will be on Tuesday, March 22nd, and Kindergarten Family Picnic will be on Wednesday, March 23rd. Following the Family Picnic, we invite you to take your student shopping at our Scholastic Book Fair. Please view the image below for more important information regarding our Family Picnics. We can't wait to welcome you to our school!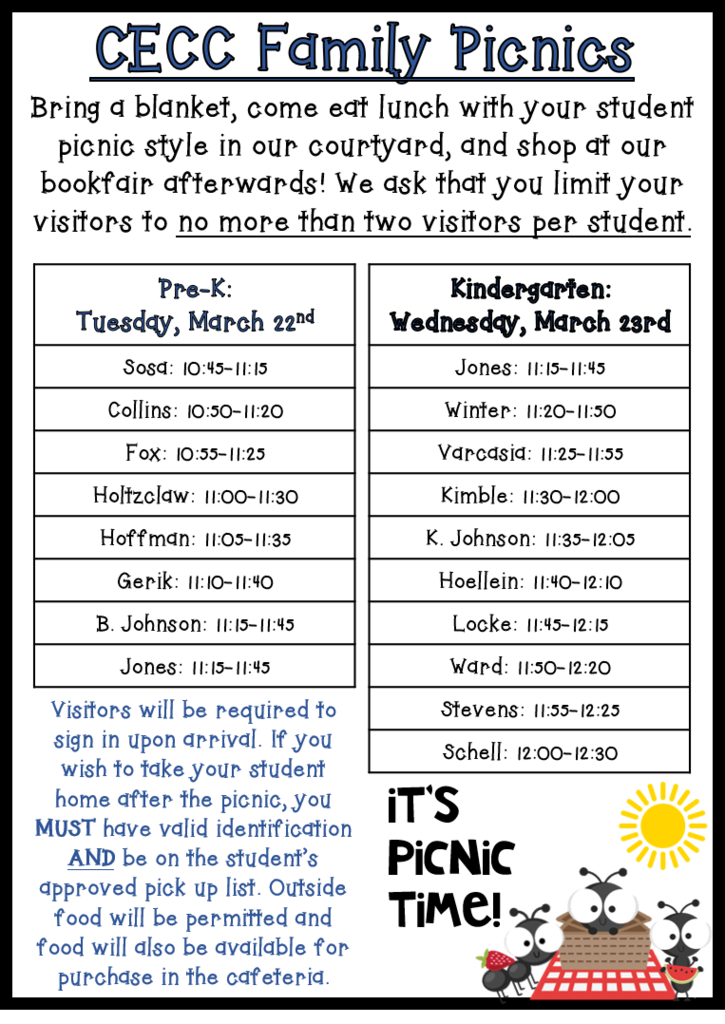 Please see the flyer regarding information about early release on Friday and Spring Break.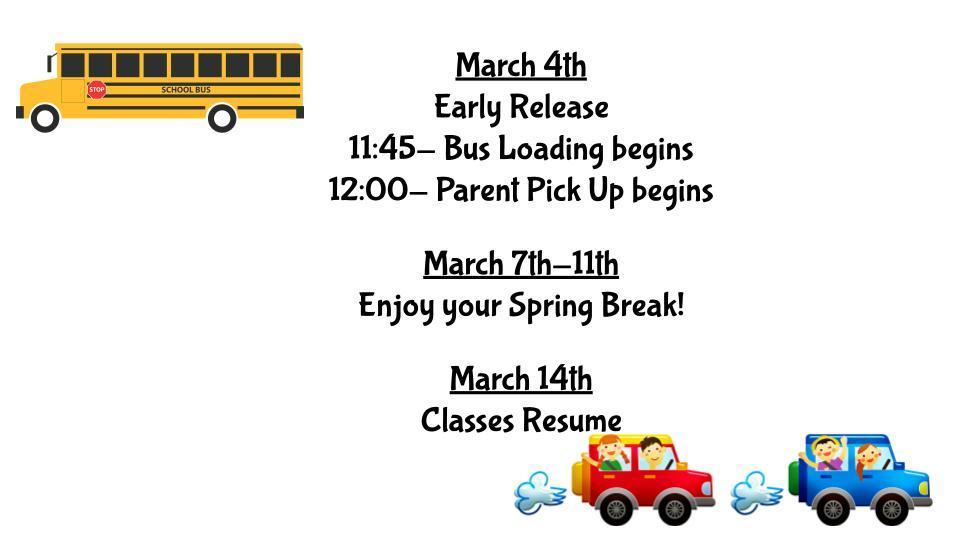 2-22-22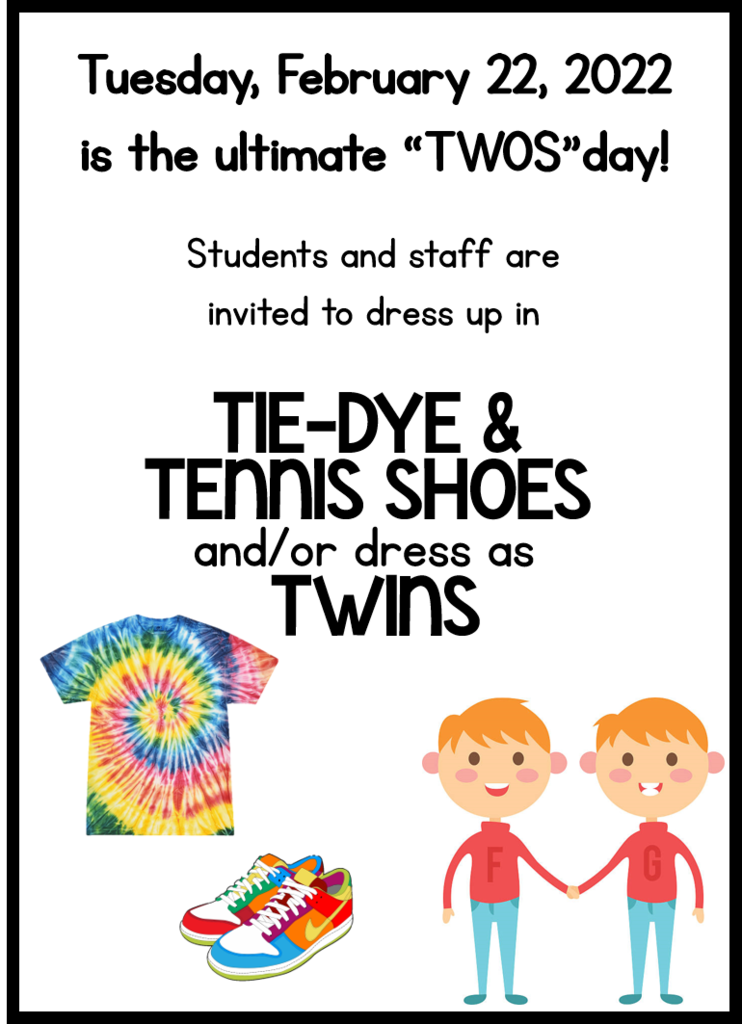 Val-O-Gram orders are due tomorrow and will be passed out on Feb. 14th.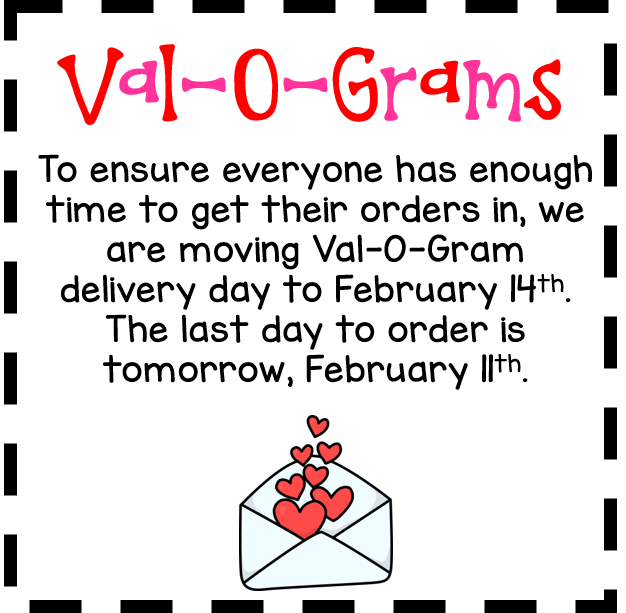 CECC parents, Due to the approaching inclement weather in our area, all Connally ISD schools are canceled for tomorrow, February 3, 2022. The decision for a possible delay or cancellation for Friday will be made once the district has an opportunity to assess the impact the weather has on our immediate community and the travel conditions. Students will not be required to participate in remote learning during the inclement weather school closure. Please stay safe and warm!

Due to several missed school days, Connally Early Childhood Center will need to increase instruction minutes. The school start time will be 7:30 am starting Thursday Jan. 20th. Students arriving after 7:30 a.m. will need to be brought to the door by an adult. Parent pick up will begin at 3:00 p.m. Thank you for your support!

Good morning CECC families! Thank you so much for helping your child get online for virtual learning yesterday. Keep it up! Just a reminder: attendance will be taken at 10 each morning so make sure your child is on zoom with their teacher. If you have any questions, please call the office 750-7160. Thank you again for your cooperation!

CECC teachers should have contacted parents about how to access virtual learning. Attendance will be taken at 10:00 a.m. every morning. Please contact your child's teacher for instructions. If you have questions, please reach out to your child's teacher or call the front office. 750-7160
Due to COVID concerns, our Donuts with Dudes event will be postponed. We will update you with the new date as soon as possible. Thank you for your understanding!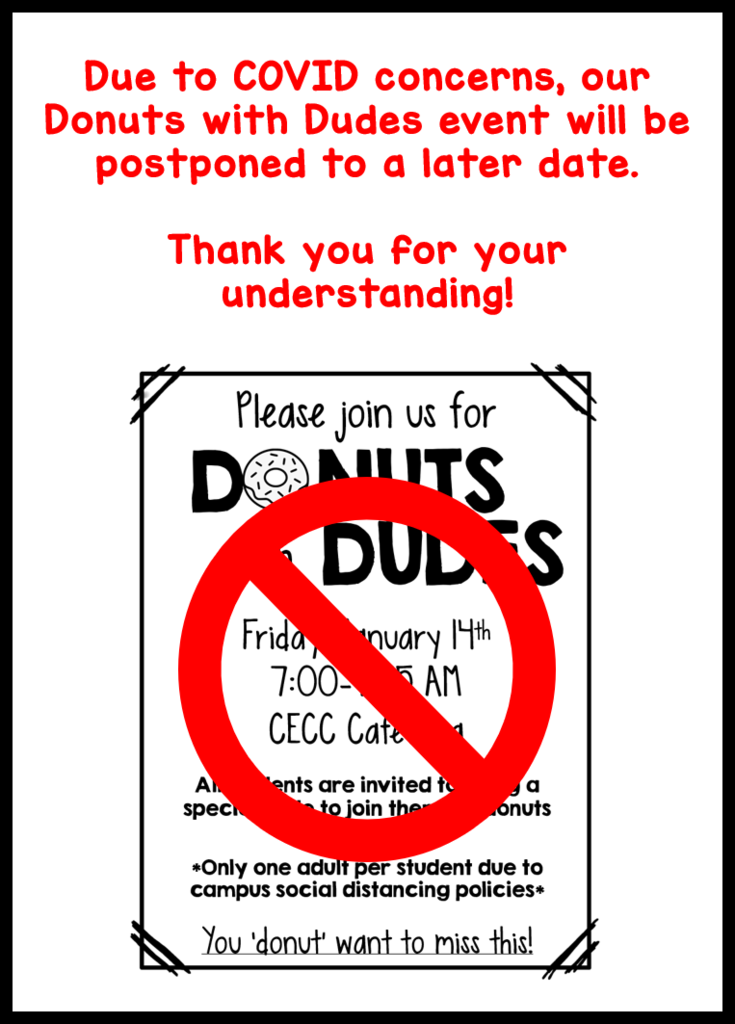 ​Please join us for Donuts with Dudes on Friday, January 14th from 7:00-7:45 AM in the CECC cafeteria. ​All students are invited to bring a special dude to join them for donuts before school. *Only one adult per student due to campus social distancing policies*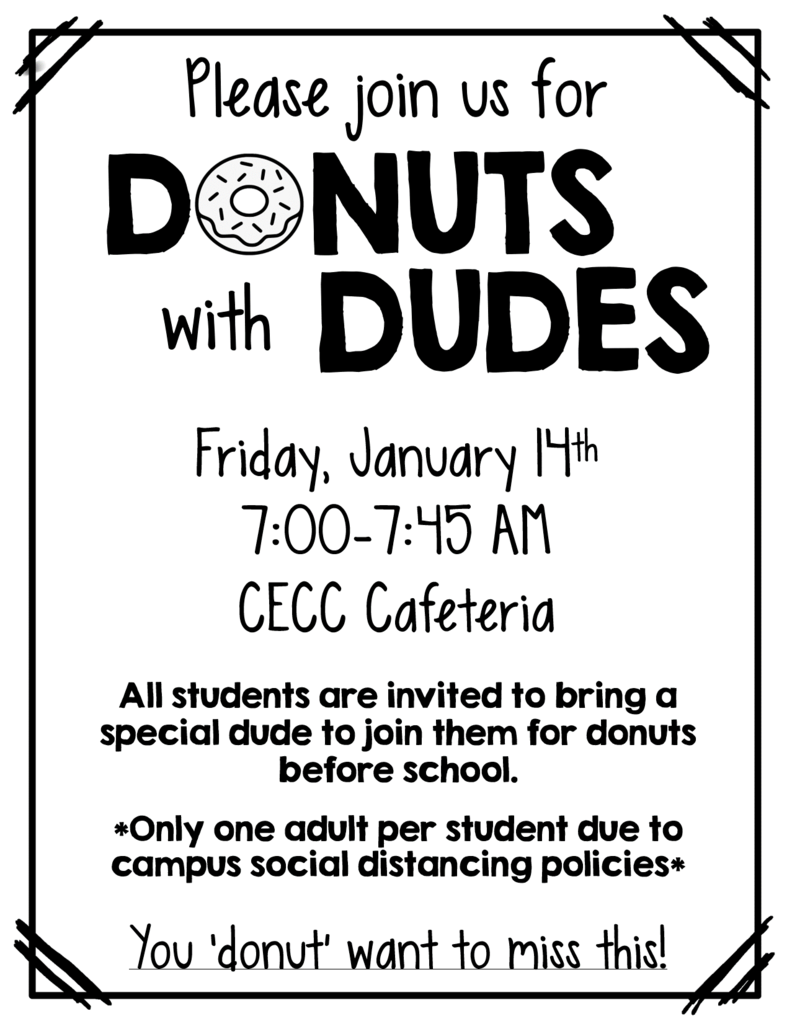 Friday December 17th is an early release day.