District Trunk or Treat Thursday, October 28th 6:00-8:00 p.m. Elementary School Wear your costume ~ Come for free hot dog, candy, and popcorn!

Outshine the Eagles - Neon Day Friday, October 15th

Please join us tonight for a Community Bond Information Meeting 5:30-7:00 p.m. at Connally Elementary. Come get answers to your bond questions and take a building tour.

Show your Cadet Pride next week! #CadetPride #alwaysweartheRIGHTshadeofblue #BetterTogether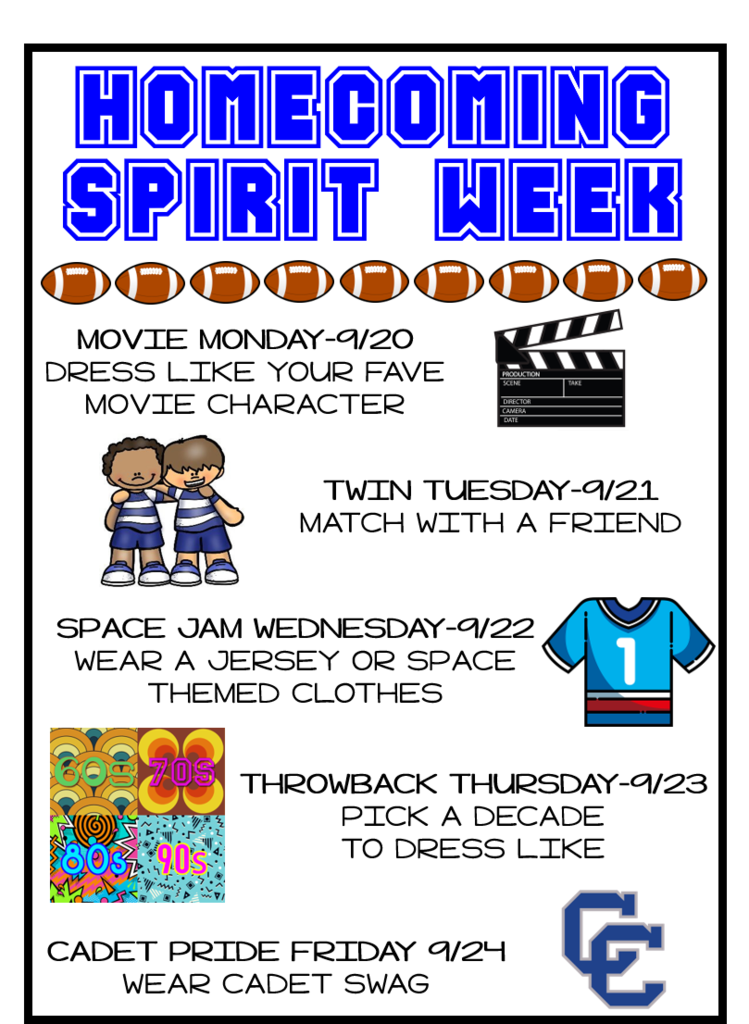 Show your Cadet Pride and wear camouflage on Friday! #CadetPride #alwaysweartheRIGHTshadeofblue #BetterTogether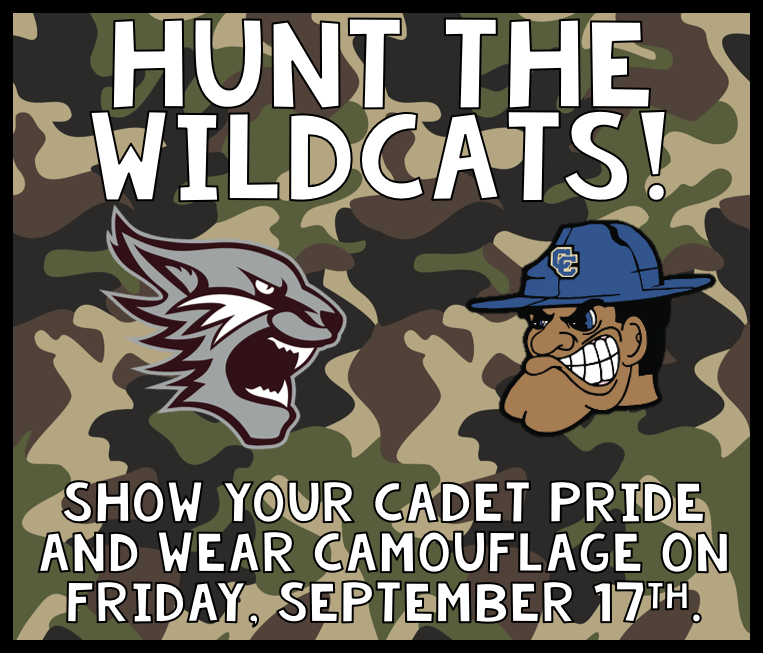 Don't forget to wear mix matched clothing on Friday to show your Cadet Pride!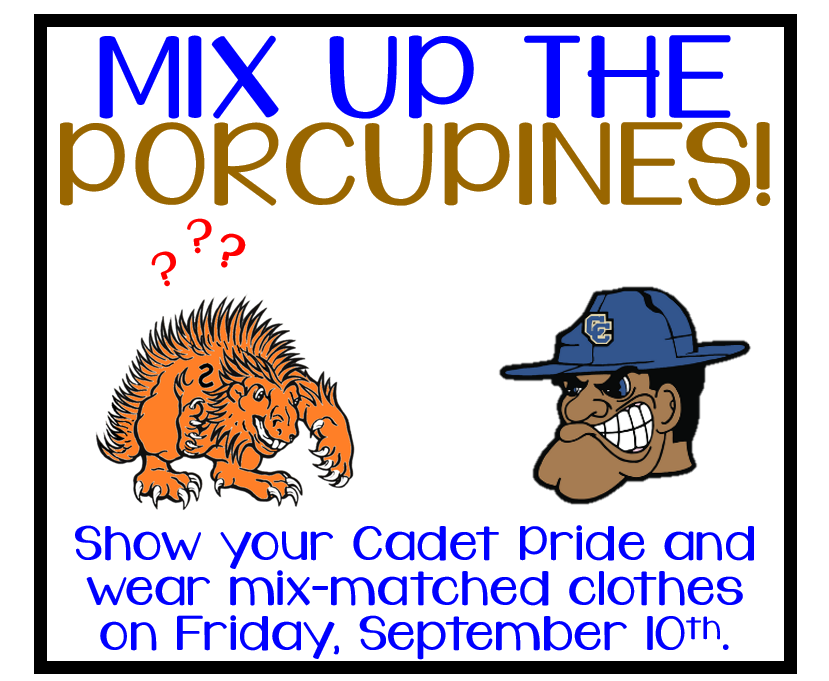 CECC Parents, All campuses at Connally ISD will be closed until after Labor Day, Monday, September 6th. Breakfast and Lunch can still be picked up 7:30-8:30 a.m. on our campus at Parent Drop-Off location. Please remember instruction is from 9:00 a.m. to 11:00 a.m. If you have any questions, please let your teacher know. Thanks! Misty Gerik, Principal
Breakfast will be available for pick up from 7:30-8:30 at Parent Drop Off. Please stay in your car and someone will bring it out to you.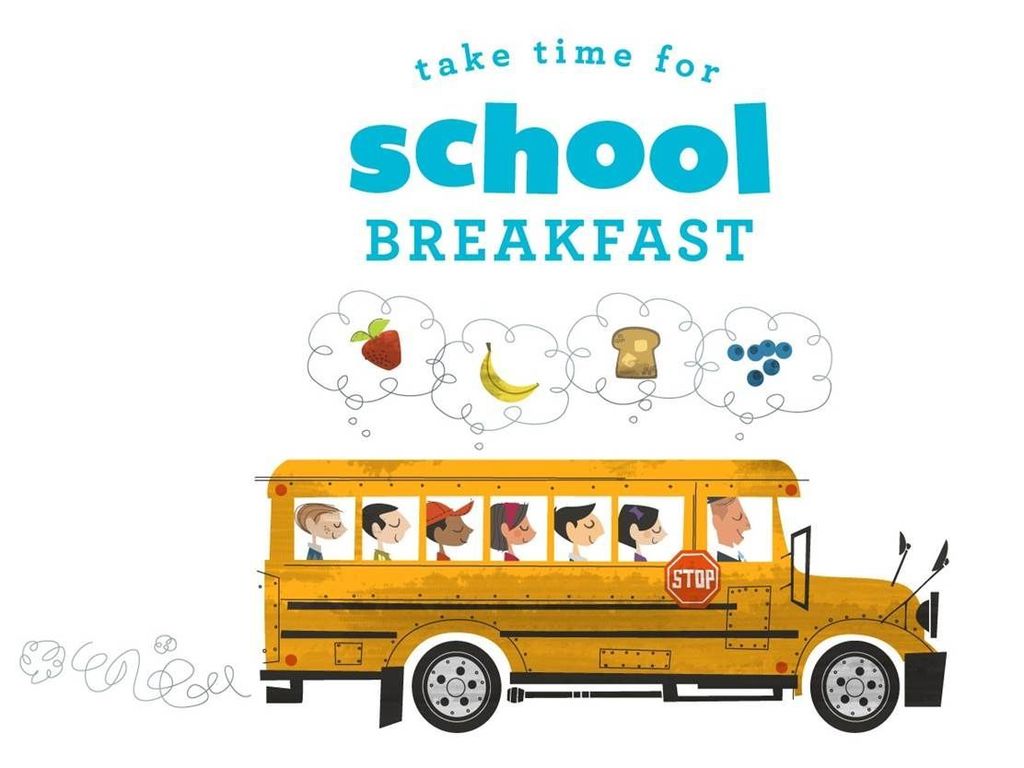 Good afternoon! Thank you so much for your patience today with morning drop-off and afternoon dismissal. Things went a lot smoother during dismissal and we were able to get students in the cars faster. I promise it will get better every day. One reminder: For the safety of your child during morning parent drop- off, please keep your child in the car until a staff member opens the door to get your child out. Students are walking too close to the cars and it's not safe. Thank you so much for your help! Mrs. Gerik
Parents of bus riders: Please be patient with our drivers this week as they get accustomed to their afternoon bus routes. They have the very important job of making sure our students are on the right bus and get dropped off at the right location safely. Drop off times this week may be delayed due to the drivers double and triple checking information to get our students where they need to be. Our campus bus loading starts at 3:15. We are so very thankful for our bus drivers, and we appreciate your patience!
If you did not bring your child's school supplies to Meet the Teacher last night, you can drop them off at the front office today so they have less to carry tomorrow on the first day of school.
Important Information About Back to School: Meet the Teacher is on Monday, August 16th from 6:00-7:30. This will be a come and go event. Parents are encouraged to drop off school supplies with their child's teacher. The first day of school is on Wednesday, August 18th. Our campus is still closed to visitors with the exception of special occasions in order to keep our staff and students safe. Parents will not be able to enter the building on the first day of school to walk their child to their class, so make sure you get your first day of school pictures done before dropping your child off in the parent drop off line by the gym. We can't wait to welcome students back for a great school year!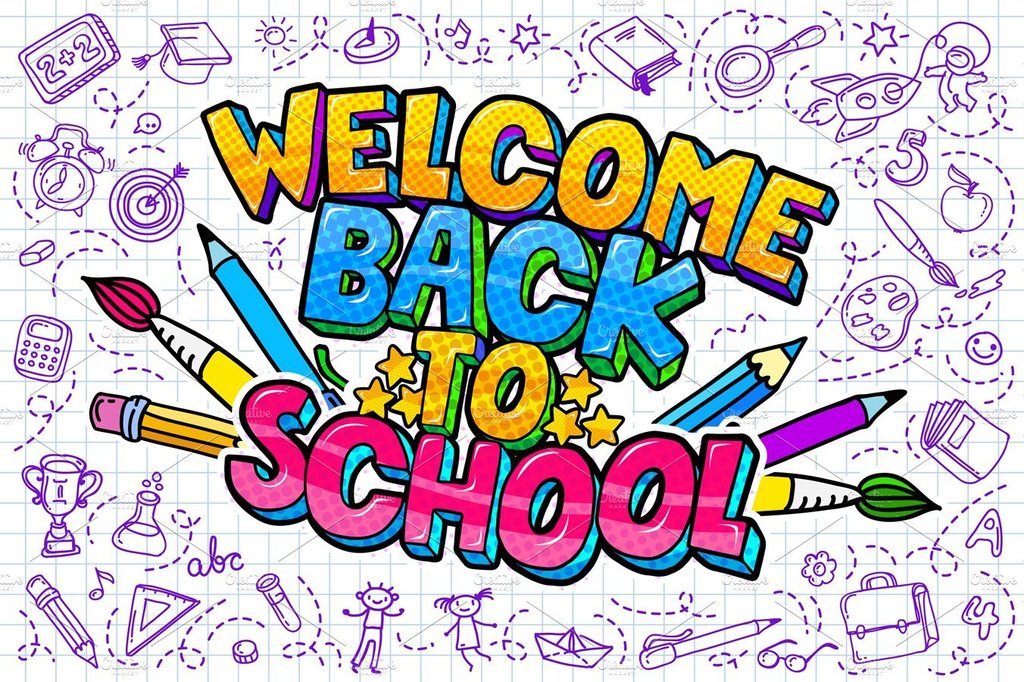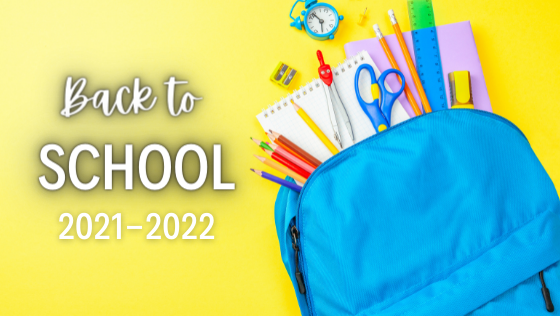 REMINDER: School Registration for Pre-K and Kindergarten has started! Thursday, July 29th - 8:00-4:00 pm in the gym. Friday, July 30th - District Closed Online registration is also available for new and returning students.

Car Drop Off and Pick Up INFORMATION FOR 1ST DAY AND BEYOND Drop-Off 7:00-7:40 a.m. School Starts at 7:45 a.m. Dismissal 3:00 p.m. *On the 1st day of school, parents will not be allowed to get out of their car and walk their child to the door or into the building. Teachers will be outside waiting to welcome the students in their classes. Please be patient as this is not the norm for our 1st day procedures. We are trying to ensure safety for students, teachers and parents. After the 1st day, staff will be at the parent drop off sign to open car doors for students. We have staff in place to make sure students get to the right place. We will only have 1 line so please watch staff (in case they ask you to pull up). Dismissal - We will have 2 lanes for dismissal. Parents will not be allowed to walk up to gym doors to pick up students. Parents will need to pick up students in the car line. Please have your student's name card visible so the process will go faster. *B.B. Brown will be ONE way going north to south from 2:30 p.m. to 3:30 p.m. every school day. This means you will not be able to turn on to B.B. Brown from Cadet Way if you are picking up your child from school.

CECC Procedures for Changing Type of Instruction Parents/guardians were given the option to choose remote learning or in-person learning when completing registration. If a parent/guardian, who chose Virtual/Remote Instruction, wants their student to switch to On-Campus Instruction, they may do so by 12:00 p.m. on Wednesday, September 2nd. Connally ISD will start in-person Instruction on September 8th. After September 8th and the rest of the 2020-2021 school year, parents/guardians will need to come to the office to complete a form to make changes to their child's type of instruction. Connally ISD is permitted, by the TEA, to limit these transactions to occur only at the end of a grading period. Please call the CECC office 254-750-7160 if you have any questions!

Good evening! My name is Misty Gerik and I'm the principal at Connally Early Childhood Center. I want to welcome you and your child to our campus. We are excited to get this school year started and would like to share a few things with you. Things to expect for the First Day of School. Your child's teacher will be contacting you by phone, email, text, or SeeSaw before 10 a.m. Teachers and staff will be available to help you with login information or answer any questions you might have. If you are interested in scheduling individual zoom meetings, please mention this to your teacher so they can set up a time for you. School start time will be 7:45 am and will end at 3:00 pm. Parents if you need any information or documents concerning guidelines and instruction procedures please go to the Connally ISD webpage. Please follow us on Connally Early Childhood Center Facebook page. We are always updating this page with new information. We have posted a video about how to download our LMS - SeeSaw for online learning. Please check it out! Lastly, Curbside breakfast and lunch will be at the Elementary and Jr. High. You may pick up breakfast 7:30-8:30a.m. and lunch at 11:00-12:00p.m. at either location. ONLY ENROLLED CONNALLY ISD STUDENTS WILL BE PROVIDED WITH MEALS. Food service will provide a Food Service ID Card for each child during the first visit. Students will need to present this ID card each time they arrive to pick up meals. Let's have a great school year! Misty Gerik

Starting Tuesday, March 17, Connally ISD will provide breakfast and lunch at 4 locations (curbside pick up or student walk-up). Children ages 0-18. One meal per child and CHILD MUST BE PRESENT to receive a meal! For all parents picking up meals, each child must be in your vehicle in order to receive a meal. When: Monday-Friday, Breakfast 8am-9am, Lunch 11am-12:30pm Where: Connally Elementary School- 300 Cadet Way, Waco, TX 76705 Lacy Lakeview Civic Center- 505 E. Craven, Waco, TX 76705 Brazos Village Apartments- 2525 Lakeshore Drive, Waco, TX 76705 Chalk Bluff Baptist Church- 5993 Gholson Rd, Waco, TX 76705
Pennies for Patients-Fun Dress up days!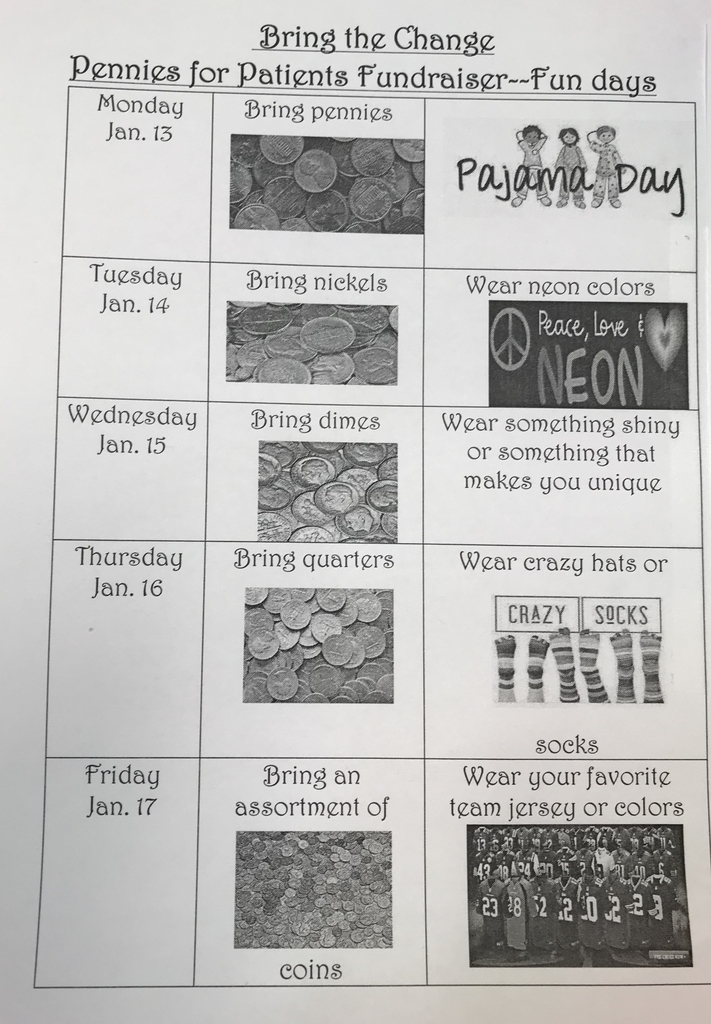 CECC Families, I am excited to announce that we have officially kicked off our Pennies for Patients program today! Your child will be coming home with their own collection box and a flyer that explains all of the exciting Hero Gear students can receive by collecting money in their box. An online donation page has also been set up by your child's teacher.
https://events.lls.org/pages/ctx/Connally-Early-Childhood-Center-WACO-2020
Then type in teacher's name in the classroom name box (left side of page) When heroes work together, we change cancer!